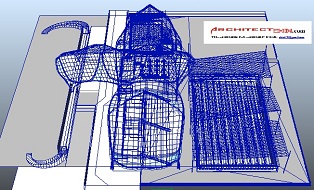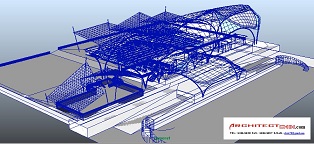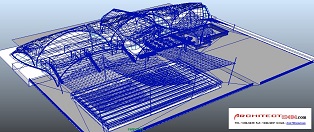 TAWAU POOL
The Tawau Pool facility is designed by Chin Architect as the latest addition to the Tawau Sports Complex located at the East Coast Division of Sabah, Malaysia. Upon completion, it will join the ranks of aquatic facilities in Asia that is developed and built with an Olympic-sized competition pool according to FINA international specifications. Its main architectural feature will be the pool's steel and tensile membrane overlapping roofs that will cover the entirety of the pool and spectator area, giving the facility a high-tech, modern façade that represents aquatic movement, speed and performance. Designed on the principles of green building and sustainable architecture, the pool complex is orientated in the North-South direction to block out the sun and to minimize glare, allowing competitive swimmers to focus on their training with minimal distractions. Handicap-friendly access and low-energy usage, allowance for future expansion and easy access to the pool's mechanical pumps are among the key points for Chin Architect's approach to design, resulting in a cost-effective solution with optimal building performance.
Apart from the impressive 21m x 50m competition pool, the Tawau Pool complex will also have a Kiddies pool for young children, ample parking space as well as administrative office space, pool operation rooms and a surau for religious Muslim prayer.
We were inspired by the idea of a modern, high-tech swimming pool for this East Coast town of Sabah; to be able to create such an outstanding piece of architecture would surely be a boon and inspiration for local swimmers to excel in their sport. One of the main considerations for an efficient swimming pool complex is the maintenance factor. As part of our design approach, we did comparative studies of designs of other local competitive swimming arenas and after identifying the main issues and concerns relating to our client's brief, we then proposed a solution that offered not only a pleasing architectural aesthetic and easy access for swimmers and visitors – but also a practical and effective means for the client to maintain the upkeep of the swimming complex for many years to come.