Petronas and NRG Plan Project Finance

Published: Jul 25 2011
Deal Summary:
Petronas Gas Berhad (PGB), a Malaysian based natural gas company, and NRG Energy, Inc. (NRG), a US based power generation company, plans project financing of MYR1,200m ($383.61m) for the construction and development of Kimanis combined cycle gas fired power plant project in Borneo, Sabah state, Malaysia.
The total project cost is estimated to be MYR1,500m ($479.52m) and will have a total installed capacity of 300 MW. The investment per MW will be approximately $1.60m. The plant will be constructed across 21,000 meters square by Kimanis Power, a 60:40 joint venture company formed between PGB and NRG. In December 2010, Kimanis Power signed a contractual service agreement with GE Power Systems Malaysia and GE Energy Parts International for the project.
The electricity generated from the project will be supplied to the state of Sabah. The engineering, procurement, construction and commissioning (EPCC) contract for the project was awarded to a consortium comprising CTCI, CTCI Malaysia, Synerlitz and SCHB Engineering. The construction of the power plant is expected to complete by the end of 2013.
Contact us at: chin178@gmail.com www.ArchitectChin.com

This e-book
'How To Be A Super Property Investor'
is worth
US$79.99.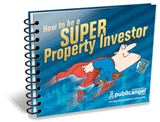 Grab it now for FREE! But for a limited time only!
Just fill in your
Email Address,
First Name
and

Last Name
and then click
Subscribe.

SECURE & CONFIDENTIAL
our email address will never be rented, traded or sold.
WE GUARANTEE YOUR CONFIDENTIALITY.