Kimanis SOGT Project
Petroliam Nasional Berhad (PETRONAS) is undertaking an integrated oil and gas development in Sabah which consists of:
Developing deep-water fields;

Evacuating the oil and gas via a network of submarine pipelines to an onshore terminal - the proposed Sabah Oil & Gas Terminal (SOGT);

Exporting the Crude Oil and Condensate via the proposed Marine Facilities of the SOGT; and

Supplying feed gas via onshore pipeline to the liquefaction plants in Bintulu
The SOGT, located at Kimanis Bay, about 65km south-west of Kota Kinabalu, is to be developed for the purpose of receiving, processing, storage, metering and exporting the oil and gas. It is being developed by PETRONAS Carigali Sdn Bhd (PCSB), a subsidiary of PETRONAS.
Contact us at: chin178@gmail.com www.ArchitectChin.com

This e-book
'How To Be A Super Property Investor'
is worth
US$79.99.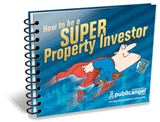 Grab it now for FREE! But for a limited time only!
Just fill in your
Email Address,
First Name
and

Last Name
and then click
Subscribe.

SECURE & CONFIDENTIAL
our email address will never be rented, traded or sold.
WE GUARANTEE YOUR CONFIDENTIALITY.