2

0 STOREY APARTMENT WITH 4 STOREY OF SHOPPING MALL AT SEPANGGAR
Our Conceptual Sketch of a 20 Storey Apartment with 4 Storey of Shopping Mall at Sepanggar, Sabah, Malaysia.
It was a challenge to design a complex building given our client's limited budget and on such a small site. The building is extrapolated from an 8.5m x 8.5m grid (which is the size of 3 car parking space). The turning circle of fire engines is also taken into consideration for the design of access roads. That is, in the event of fire the fire engines must be able to access the site unhindered.
The apartments must have adequate fire escapes; no dead-end corridors are allowed.
The shopping mall has a huge column-free atrium with smaller-than-usual shop lots around it. The brief calls for smaller-than-usual shop lots to accommodate for lower to middle income consumers and shop owners. The ground floor shop units have a covered walk way surrounding them which are ideal for cafes and restaurants.
Level 1 to level 4 are shopping malls; Level 5 to level 8 car parks; level 9 to level 20 are apartments.
This e-book
'How To Be A Super Property Investor'
is worth
US$79.99.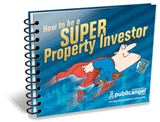 Grab it now for FREE! But for a limited time only!
Just fill in your
Email Address,
First Name
and

Last Name
and then click
Subscribe.

SECURE & CONFIDENTIAL
our email address will never be rented, traded or sold.
WE GUARANTEE YOUR CONFIDENTIALITY.