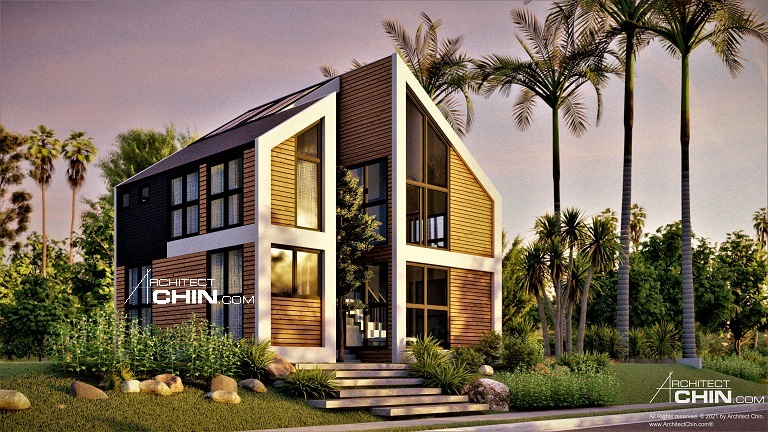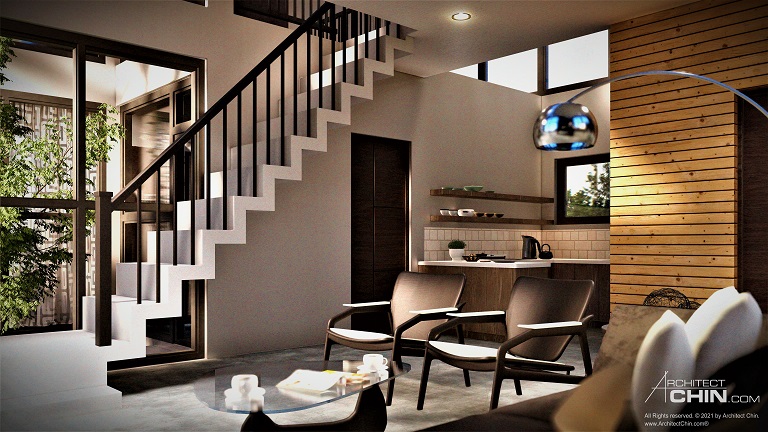 JASMINE HOUSE
We provide continuous Technical Support after your purchase. Feel free to ask us anything. We will try our best to solve your problems for you. : )

WHAT YOU GET:
1 Complete Set of Digital Blueprints of Modern 2 Levels, 4 Beds, 3 Baths House




(This is an Instant Digital Download; no shipping is required)




• 3D Color Renderings x 4 Views




• Plan,




• Loft Plan,




• Elevations x 4,




• Sections x 2,




• Floor Frame Plans x 2,




• Roof Frame Plan,




• 3 Enlarged Construction Details,




• Materials List with estimated quantities.




• Format in Digital JPEG or PDF in A4 size




Diagonal Watermarks will not be visible in the downloaded files you purchase.


ADVANTAGES OF THIS DESIGN:
4 Beds, 3 Baths Modern House, 1 Sofa Bed, Flexible Design, You can adjust the length of the house to any suitable length.




(Fixed Width = 32', Flexible Length = 24')




All materials are available off-the-shelf from your local hardware stores. Sizes are standard easily –available sizes. We don't use any specialist materials that are hard to source.




All of our roofs are sloping to eliminate rain, snow and leaves accumulating on them. We use roof overhangs to prevent rain/snow splash and summer sun from heating up the house.




All Roofs, Walls, And Floors can be insulated with 2" to 6" Thick Insulation Batts, Sprayed-in Insulation Foams and Bubble Sisalation Foils.




Electric or Woodstoves, Chimneys, Washers, can be installed inside. Interior space is quite spacious.




We designed this house for to maximize your land use. You will get a full loft floor, entire house under one roof. Every part of the house gets a view outside. The build-up area vs. materials used is very high and efficient.




It has a generous covered porch area that can be used as dining, sitting and exercise space. It's a very flexible use of space. High windows are designed for natural light penetration to the house. The living area, kitchen, toilets, dining are all on the same level. Sleeping area is at the loft above. Solar panels can be installed on the roof.




The architecture is unique and elegant. The materials and colors are designed to complement your environment.




It can be extended at the front and rear end in future.


DESCRIPTION OF HOUSE:

Level 1:




• 1 Courtyard




• 2 Bedrooms




• Living,




• Dining,




• 1 Bathroom,




• Kitchen,




• Space for Washer and Dryer.




• Closets / Storage,





Level 2 (Loft):




• 1 King Bed Bedroom with Ensuite




• Balcony / Study Area with Ensuite




• 1 Queen Beds Bedroom le Beds option




• Closets for all bedrooms




• A proper Staircase

SIZES:
LEVEL 1:




Enclosed (With Walls) Building Area = 24' x 32' – (8' x 8') = 704 square feet.




Courtyard (No Walls) = 8' x 8'= 64 square feet.

LEVEL 2:




Enclosed (With Walls) Building Area = (24' x 32') – (8' x 16') – (8' x 8') = 576 square feet.
------------------------------------------------------------------------------------------
Total Enclosed Area (With Walls, Level 1 + Level 2) = 704 + 576 = 1,280 square feet.




Total Covered Footprint Area = 24' x 32' – (8' x 8') = 704 square feet.




Overall footprint of house is = 24' x 32' = 768 square feet.


MATERIALS:

Metal Frame, dry floor and wall construction (cement fiber board, timber board, glass, plywood, etc.), Metal or Shingles roofing, Concrete Footings, Metal stumps, Insulation Batts with Sisalation Foil or Spray-On Insulation Foam. You can get all the materials from your local hardware stores.

ESTIMATED COSTS (Ballpark Figures only):

South = @ $190 to $225 /SF




Midwest = @ $120 to $350 /SF




Northeast = @ $220 to $330 /SF




West = @ $120 to $320 /SF

Costs of materials only = USD51, 000. (For owners who are building this house without hired labor)


BUILDING DESIGN:

There are 3 ways you can get a Building Design:




A) Buy our Ready-Made Plan or




B) We Modify a Ready-Made Plan for you or




C) Commission us to Design a New one for you.





2a. Buy A Ready-Made Building Plan; Instant Digital Download. (See Etsy Shop: ArchitectChin, https://www.etsy.com/shop/ArchitectChin?section_id=30842512):




• Tiny House Plan 250




• 3 Bed House Plan 420




One house plan is licensed for 1 house only. Add USD80 for each additional house planned.

2b. We Modify a Ready-Made Plan For You:




After you purchase a Ready-Made Plan (Tiny House Series only) and If you need to modify a Ready-Made Plan:
Minor Modification to Ready-Made Plan (Width (Gable Side) remains the same, Length is modified; i.e. the building shape remains, it becomes longer or shorter.):

a) A simple thumbnail pencil sketch to modify it is FREE (1 Plan and 1 Elevation.).




OR




Minor Modification to Ready-Made Plan (Width (Gable Side) remains the same, Length is modified; i.e. the building shape remains, it becomes longer or shorter.):




A set of CAD drawings changes to a standard 2 D drawings (i.e. plans x 2, elevations x 4, and sections x 2) will be 600 USD. No 3D views.

2c. Commission Us To Design A New One For You:




(New Set of Plan. i.e. Width (Gable Side) changes, Length is modified. i.e. All dimensions differ from the Ready- Made Plans):

• 1 Level House #Complete Set of Drawings 3,738

• 2 Levels House #Complete Set of Drawings 4,438

• 3 Levels House #Complete Set of Drawings 4,938

#A New Set of Plan in 2D (i.e. Plans x 2, Elevations x 4, Sections x 2, 3 Enlarged details, Floor Frame Plans, Roof Frame Plan, Material List) and 3D views (2 Interior and 2 Exterior views).




The 1st draft will be ready in 3 weeks. It's about 6 to 8 weeks work in total. This is a commissioned work. No purchase of Standard Plan is required.

Let me know which option works best for you and I will try my best to accommodate your request.




You can check out our other House Plans here: https://www.etsy.com/shop/ArchitectChin?ref=seller-platform-mcnav&section_id=30842512




And Our Website: http://www.architectchin.com/index.html




I will personally reply your messages within 1 day. We offer friendly, helpful and honest services.




We will give you continuous technical support.




Our designs comply with building codes in all countries. (Including USA and Canada).




We have 34 years of experience in architecture. We stand by our quality.




If you are not happy with our ready-made plans we can exchange another one for you free of charge or refund you (minus Etsy's fees). No issue.

WHO AM I?

I am Architect Chin, from Malaysia, educated in Australia. Designing is my passion. It is what I do every day.




I have been doing architecture for 34 years. Need that vacation… : )




We have worked on houses, condominiums, offices, swimming pools, shops, government buildings, interior designs, renovations, hotels, resorts, pre-fab houses, tiny and big houses, etc.




We have an excellent track record and a solid reputation.




You can trust us with our services. We may not be the cheapest but we promise to delivery excellent work to you.




Feel free to ask me anything if unclear. Thanks




Regards,
Architect Chin





Terms of Use:




*You may not sell digital files using this product.




*You may not use any of our designs in part or in whole to create any new digital design to sell.




*You may not share, copy, gift, resell or modify our designs.




*You may not use your items to be created to a Print On Demand site such as Printful, Zazzle, or StickerMule. No 3rd party printing is allowed.




*You may not copy, sell without purchasing our license.




*You may not sell our digital files.




* You May use this to build one house. You may not use this to build more than one house.

All Rights reserved. ฉ 2021 by Architect Chin.
www.ArchitectChin.comฎ